Naseh Nasrollahi Shahri, Ph.D.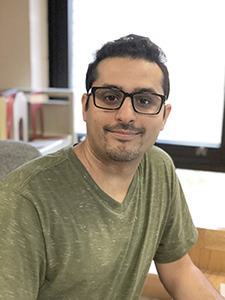 Assistant Professor and Composition for Multilingual Students Program Director
Naseh Nasrollahi Shahri received his Ph.D. from The Pennsylvania State University.
As an applied linguist, Shahri pursues research at the intersection of linguistics, culture, and education. More specifically, his research focuses on the role of identity and affect in second language and literacy development as well as the sociocultural aspects of literacy. A second line of his research concerns methodography, in particular the question of how qualitative data collection and analysis shape knowledge construction. His interdisciplinary research has appeared in various journals including TESOL Quarterly, System, Language Learning Journal, Language and Intercultural Communication and Teachers and Teaching.
At SDSU he coordinates the composition program for international students and teaches courses on the theory and practice of language teaching and literacy. Before joining the Department of Linguistics and Asian/Middle Eastern Linguistics at SDSU, he was a faculty member at American University, Washington, D.C..